He was supposed to start his new position in Slovakia in May but due to the closed borders, his start moved to July. Now he has over 100 days in his new office, got to know his Slovak team and gained first experience with Slovak customers. In the interview Mr. Ibrahim Demir, new Head of Trucks at Mercedes-Benz Slovakia and his Sales Management team, he tells us about current challenges, ways how Mercedes-Benz Trucks wants to support its customers and what are the plans for the future.  
You recently finished your first 3 months in a new role, in a new country. How would you describe this period?

Yes, it´s already more than 100 days since I am here. You can imagine, that we have been faced this year with many extraordinary challenges driven mainly by the COVID-19 situation. However despite all of that, I can personally easily say I feel here in SK like at home. I have the impression like being working for a decade for Mercedes-Benz here in Slovakia (smiles). Of course, the fact that  I was already in charge for Eastern European markets including Slovakia at my headquarters job helped me a lot. However without the local team of MBSK this will be not so easy at all. I found a great team here, functional team, motivated people having the same passion for the Mercedes-Benz Trucks as I have. That made my start easier  and together we managed to overcome these extraordinary days and  steer our business to the next level.
What are the key areas you want to focus on in the close future and what are your long-term plans?
We have to be closer to our customers and start with listening to them. It sounds very easy, but really, get in touch with them, not talking only about what we are selling, how great our products are. They are all intelligent people, they already know the products. We need better understand which issues they have, what problems they are faced in SK and abroad. We as the biggest Truck manufacturer with a 130 years heritage have many solutions in our hand and we need to bunch of new solutions for our customers. We are not just delivering Trucks, we are the partner for innovation and progress. This mindset change we need to bring in all areas, where we have a customer touch point. Hence we will further develop our service partners in both directions performance and customer dedication. We see an urgent need for action in this area. This is what we are focusing on a short term.
On a long term, we aim to be the preferred partner for all transport companies in Slovakia. For that, we have to develop our organization and people here into highest customer focus. Further, we need to expand our product/service portfolio towards upcoming changes and needs in the whole industry. We will start already next year with that, Actros F will be available in the Slovak Market to complete our product offering. From 2022 we will enter into the new transportation world and will launch step by step our new alternative powertrain vehicles, which will contain also new solutions for the new transport trends, more digital, greener and autonomous.
What effects current situation with pandemic may have on the transport market?
I think nobody expected we face such a pandemic during our lifetime. The last pandemic in Europe was 100 years ago. But there are two lessons learned from this COVID-19 pandemic. The first one is the world we live in is vulnerable. Before the pandemic, we thought if anything happens, in two or three months we will have vaccine available and there is no issue anymore. Now we see we should never rely too much on what we have and work harder and consider risks we can face.  The second lesson learned, and I am happy to be honest, people realized how extremely important transportation is for all of us.
During the first shutdowns all over the Europe, everybody appreciated the work done by the transport companies and that is really very important. It shows how necessary transportation industry is for us, for the hole economy and the system we live in.  I do not expect there will be huge transformations or huge changes in transportation companies due to the COVID-19 pandemic. Transport companies owners are very used to volatile market situations. And what we know from conversations with them, they are very good in finance. So I think majority of them will overcome the crisis. Of course some of them with cuts and problems but they will manage it.
Do you think it will anyhow affect the trends like digitalization and push for alternative fuels?
I think transformation need will come from a totally different area and that will be amongst others the demand for digitalization. Customers and also governments will ask transport companies to be more digital. You can already see it – from last year we have digital tachograph. This will continue. Digitalization will be a part of our transportation life. Another issue is environmental demands. European union decided to reduce CO2 emissions by 90 % in transport by 2050. This will affect all of us. Everybody will take into account CO2 footprint in their companies. This was already happening before the pandemic, pandemic just makes the changes come faster.
Where else do you expect transportation will become more digital?
Digitalization will help us to solve our problems. Let´s take our new service Mercedes-Benz Uptime for example. It´s one of the innovations we introduced three years ago in core EU markets. We have prepared the prerequisites here in SK and are offering this intelligent solutions right know within our ServiceContract complete. For transport companies the nightmare is downtime. So, uptime is theire hero. If truck is not on the road, that's unproductive time. And we can tackle with Mercedes-Benz Uptime exactly this, keep the uptime on max.level. We are the first one to have intelligent solution which is permanently monitoring the vehicle and sending the information to cloud and can analyze and notify us and the customer about possible damages or problems with any vehicle. With this service, customers can avoid breakdowns, they can plan their workshop visits much easier and it also brings more transparency for the customer.
Problem we´ve been facing for years is if vehicle breaks down, it comes to the service and we find out that a spare part which is needed for repairing the vehicle is not on the stock. With Mercedes-Benz Uptime, this problem is solved. With this service workshop knows if something happens and which part is needed for repair so they can prepare for the visit in advance and cut the time in the workshop to minimum.
Imagine I will tell you I have a solution for you which makes sure you will never have any problems with your teeth in the future. As your dentist, I will call you two weeks in advance to notify you that you are going to have a problem with your teeth number 16 so please come to me and we can avoid the problem and avoid your pain. You can plan when is the best time for you to come and save a lot of time and money because we will prevent larger damage. On the other hand, if you say I do not want such service, once you have caries on your teeth, obviously it is painful and disrupt your day as you didn´t plan to spend several hours at the dentist. That´s Uptime. That´s why we believe Uptime will be a crucial service in the future. Of course we constantly work on the improvements, in the future it will also include not only trucks but also information and notifications about trailers, that´s also part of transport business.
This sounds like a bright future. How you see future of the transport industry developing in larger scale?
I can underline that future of transport and logistics will be definitely more green. This comes from the customers of our customers, they strongly demand this. As a society we all know we need to change our lifestyle if we want to leave something for our children and grandchildren. Coming from that perspective, change is inevitable. But this will not happen automatically. We need to work on that. If we want greener logistics, we need vehicles which comply with new standards and are CO2 neutral. That´s why we as a company said beginning 2039 all our vehicles will be CO2 neutral from tank to wheel.
And we can provide this with two technologies – battery and fuel cell technology, which we already have available as a pilot for several customers and these vehicles will be available in 2021 in series production and also hydrogen, we have our GenH2 truck which is set for long-haul transports. In addition to that, as I mentioned, our customers are very knowledgeable people and we have to make sure it is not only CO2 neutral but also reasonable. Because if at the end of the chain customer will say I am not going to pay 25 % more for the orange juice but I want to have it delivered by green transport, that will not work. So we need to take this into account and think about the cost perspective as well.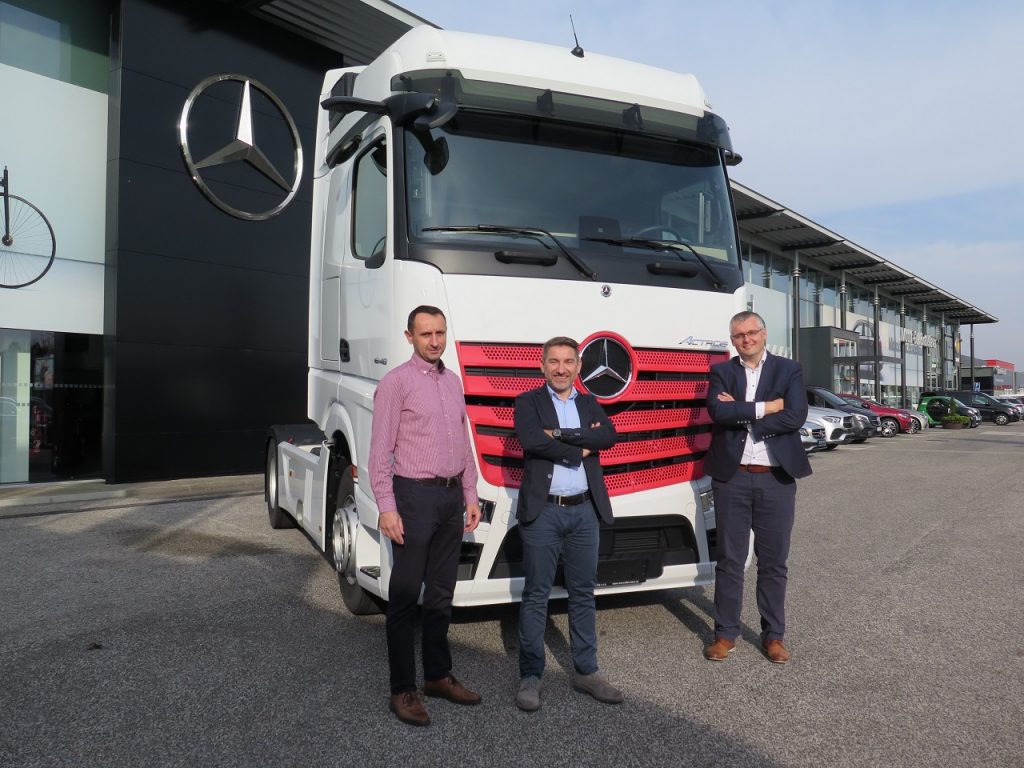 And we also need government actions. New technologies are more expensive, especially at the beginning. They are not as cheap as existing diesel technology, it will take many, many years until the prices are comparable. Not mentioning we need infrastructure if we talk about hydrogen technology or battery vehicles. To accomplish all this, customers, manufacturers and governments need to work together.
What do you think will be the key steps for successful implementation of more environmental solutions?
Well at first we need customers to accept the new technologies. New technologies need to help them set up their new business models and to earn them money. We as a manufacturer need to provide products which work and are efficient. We cannot say hey, there is hydrogen truck for long haulage and its real range will be 200 kilometers. That would never work. Our strategy as a company is clear: we say the future will be greener. Battery will be the technology for let´s say short distance vehicles, for long distance and haulage we believe hydrogen technology will be the future. We know that nowadays, gas engines are offered as an alternative but as a company we do not believe that gas is a long-term solution, we rather see it as an expensive interim solution. We fully focus on battery and hydrogen technologies and in the meantime we provide best fuel-efficient diesel engines with incredible consumption.
If you could send a message to the transport industry in Slovakia, what would that message be?
First of all big thanks for their commitment and trust in Mercedes-Benz Trucks. From deep of my heart, I would like to say don´t be demotivated with the current market situation. Transport industry will remain. There will still be goods which need to be transported and also, Slovakia has great future in front. I met true professionals here, also in compare with Western Europe companies. Here they are maybe smaller sized but more agile, more flexible and durable. So no need to be pessimistic about the future of the industry here in Slovakia. But, of course, we will face new challenges.
Things will be more volatile, more uncertain, more complex. And there will also effect the transport industry. We will have new legislation, everything is going to be more digital, with large amounts of information, transport companies will need to set up a new business models. In these complex times, they will need a reliable partner standing by their side and supporting them. That's here in SK Mercedes-Benz Trucks If they face any situation, any problem, we want to be their partner, it´s in our DNA to be there for those who keep the world moving. Therefore, I kindly ask them, if there is anything they consider or think about their future business, please just come and knock on our door, we will assist and help you with our expertise and innovation. We have whole amount of solutions to support you. Every change brings opportunity and that is the case also with new legislation. Find new business models, ask us, we will help you to build your new businesses.
About Ibrahim Demir
Born in 1976 in southwestern part of Germany which is well known as a industry region with many global brands having their headquarters here, such as Mercedes-Benz. As he says, as a son of Turkish immigrants, he was growing up in two cultures and already as a young guy decided to mix the best from both cultures – German and Turkish – to create his own culture – to listen what others say even if they have different opinions, be friendly, open and helpful to others.